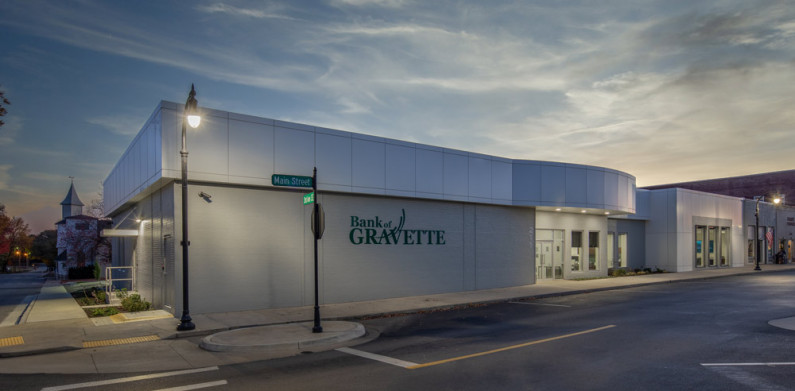 As many of our customers in the Gravette area already know, Legacy National Bank purchased Bank of Gravette in 2018. For the last three years, Bank of Gravette has been operated as a separately chartered bank. Recently, it was decided it was in the best interest of all of our customers to merge the two banks together.
There are three points of this merger that will interest all existing Legacy customers, as well as former Bank of Gravette customers new to Legacy National Bank.
Bank of Gravette's Main Branch in Downtown Gravette.
In 2019, we changed the logo and started a remodel of the main bank in downtown Gravette. The Gravette location will now be branded as "Bank of Gravette, a division of Legacy National Bank." Bank of Gravette has the distinction of being the oldest chartered bank in Benton County and has survived several economic downturns, including the Great Depression. As we look towards becoming one bank, we will stay true to the Bank of Gravette's unique legacy, and we value the name and reputation the bank has earned.
Two "New" Legacy Banking Centers
The Centerton and Hiwasse locations will now be rebranded as Legacy National Bank. These branches and the Bank of Gravette location are now a part of the Legacy system. So, feel free to stop by anytime to use the ATM, make a deposit or conduct any bank business you need there whenever it's convenient.
Now There are Nine
The great news for all Legacy National Bank customers, old and new, is there are now nine locations throughout Northwest Arkansas. Whether you are coming over to us from the Bank of Gravette or you're a current Legacy customer, you can handle any of your business in any of our locations – whether it concerns online banking and direct deposits or your checking and savings accounts.
In addition to the nine convenient locations throughout Northwest Arkansas, all of our Legacy customers can use any ATM in the world without any fees. As always, if you have any questions regarding the switchover or any other subject, stop by Legacy Bank in Springdale, Fayetteville, Bentonville, Rogers or the new locations in Gravette, Hiwasse or Centerton.