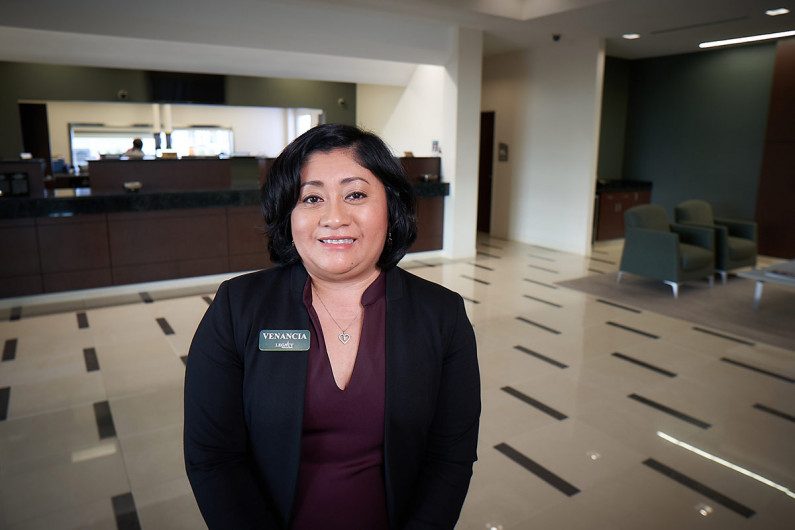 What do you consider your "hometown" in Northwest Arkansas, and how long have you lived there?
Venancia Wilks: Rogers is my hometown. I have lived here for four years.
How long have you lived in the Northwest Arkansas area?
VW: I moved to Northwest Arkansas in January of 2015 from the Kansas City area. I am originally from Guatemala where I received a degree in teaching. I came to the U.S. as an exchange student in 1998 and lived in Cedar Rapids, Iowa for four years. I graduated with an associate degree in business administration from Iowa State University. I worked for HEINZ of North America for five years where I met my husband, Dave. Because of Dave's work, we moved many times before arriving to Rogers. I have fallen in love with this area. Dave has gotten new job opportunities in many other places. He has declined them all because we both love this place so much.
How long have you been in the profession of banking?
VW: I worked as an accountant for five years. It was something I enjoyed, but it wasn't my passion. I love people, so being in an office all day by myself wasn't really making me happy. It wasn't until Dave and I moved to Dodge City, Kan. That I realized I loved banking. Maria Ferreiro was a personal banker at a local bank there and I watched her open our account. I loved every bit of what she did, especially how invested she was in getting to know us. Shortly after, I had an opportunity to work as a loan officer for a well-known company around the US.
I have 12 total years in banking. I started my journey with Legacy National Bank as an assistant branch manager in January of 2016. At the end of 2016, I was promoted to an AVP branch center manager, and on April 2019, was promoted to VP branch center manager. I really enjoy what I do. I can certainly say that I will be happy banker until the day I retire.
How do you help Legacy bank customers achieve their own legacy at this Legacy Branch?
At Legacy National Bank–Pinnacle, it is our personal commitment to help people at every stage of their financial lives. We truly believe in creating long-lasting relationships, having that personal touch that allows us to serve our customers better. Our goal is to guide them to succeed financially.
Northwest Arkansas is such a great place to live. How do you (or you and your family) enjoy Northwest Arkansas?
It didn't take Dave and I very long to realize this is our forever home. Even before we moved here, we loved it so much that we decided to get married in Eureka Springs in 2009. We like to take short trips to the mountains or any small town that we find interesting. We enjoy having dinners in Bentonville and Rogers. Dave enjoys golfing and riding his Harley in the summer. NWA's natural environment and outdoor recreationmake it a great place to live.